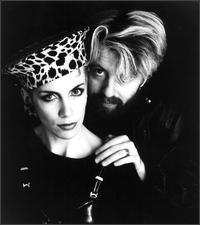 David Allen Stewart was born in 1952 in Sunderland, Tyne & Wear, as a youngster Dave dreamt of being a professional footballer until a knee injury forced him to change his career path. He was given a guitar when he was recovering from his injury, and soon mastered it. When he left school he formed a band called Longdancer who signed with Elton John's Rocket record label and had moderate success in Britain and Europe. Longdancer broke up in 1977 when Dave met Annie.
Dave formed The Catch with Peet Coombes and Annie Lennox his then lover. However only one single was released, Borderline and the band gained a few members and changed their name to The Tourists. Between 1978 and 1980, The Tourists' new wave pop gained them many fans and two Top 10 hits with "I Only Want To Be With You" and "So Good To Be Back Home Again."
In 1980 The Tourists split in the middle of a tour in Bangkok and Annie and Dave's relationship too ended. However they continued to make music together as Eurythmics and as a two piece in 1981 released "In the Garden". It gained only luke warm reviews and it wasn't until 1983 and the release of "Sweet Dreams (are made of this)" which catapulted them into the big time. Over the course of the next decade, they became the most successful male-female duo in pop history. The had massive hits with songs like "Sweet Dreams", "Sister's are doin' it for themselves" , "There must be and angel" and "Here comes the rain again" . In the eighties they sold over 30 million albums and had many sold out world tours. Their innovative and clever videos earned them popularity with the birth of MTV and this combination of visual brilliance and innovative music earned them many fans and awards over the years.
Eurythmics split in 1990 and Dave began to pursue other projects which he had already touched on when in Eurythmics. He had already made a name for himself as a producer and worked with artists such as Mick Jagger, Bob Dylan, Bob Geldof and Alison Moyet. Later he went on to work with bands such as Texas . He also formed, co-wrote and produced albums for Shakespear's Sister, a band of which Dave's then wife Siobhan Fahey was a member.
In the late eighties whilst still in Eurythmics Dave formed the Spiritual Cowboys releasing two albums and in 1993 he formed Vegas with Terry Hall, formally of The Specials. They released the self titled album "Vegas". It wasn't soon after when in 1994 Dave released his first solo album "Greetings from the Gutter", it boasted collaborations with artists like Mick Jagger, Carly Simon and Lou Reed. More recently Dave released Sly-fi, a CD for which he used his internet skills to promote.
Another love of Dave's is film, he has worked both in the musical and visual side of it. He has made many soundtracks and had a hit in 1991 with "Lily was here" from the film of the same name, a duet with female saxophonist Candy Dulfer. He also made the soundtrack for the film 1984 with Eurythmics and more recently made the music for the film "Cookie's fortune". In 2000 he co-wrote and directed the movie "Honest" starring three of the members of the All Saints, the biggest of his many film projects, unfortunatly the film was unfairly given bad reviews by critics, who seem to think that a musician can't be multi talented and direct a film as well as write music.
Other projects he became involved in were photography a love which helped him meet his partner Anoushka Fisz. Dave has three children, two boys Sam and Django with his first wife Siobhan and a daughter Kaya with his current partner Anoushka Fisz.